Baby Clothes. Newborn and Infant Clothing.
Clothing Your Baby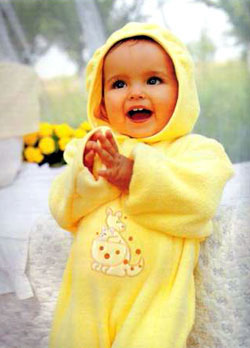 Buying baby clothes online seems to be a popular and easy way to make purchases. No more searching the stores for what you want; no more waiting in lines; no more busy parking lots. Babies bring a lot of joy, but they also bring a lot of work. With so many moms going back to the workplace these days, buying online is an appealing option to the alternative. After a long day at work and an evening of cooking and cleaning, the last thing any mom wants to do is run out and buy newborn clothes and baby clothes, even if they can get away with calling it "shopping".
Newborn Clothes – Size and Season
The first thing to be aware of when buying newborn clothes online is to know what size and season your baby will be in. Because newborns grow so fast, buying a lot of newborn clothes might not be necessary. Remember too that you might not be taking your newborn out as much, so infant clothing for around the house might be more appropriate than 3-piece outfits every day. It's a good idea to buy baby clothes that are a size larger than what your baby is in currently. This way he has a chance to grow into the clothes rather than wearing something that doesn't quite fit the way it used to. It's always a good idea to stay ahead of his growth spurts.
One way to determine how large you should buy your baby clothes is to take notice of your babies growth patterns since they tend to grow at the same rate for the first couple of years. Does he gain weight fast? Where does he put on weight on his body? There are many types of infant clothing made to fit all body types, so be aware of your baby's body shape. Just as a pair of jeans doesn't fit the same on two people, your baby may not fit into certain types of clothing the way the baby in the picture does.
Also, be conscious of the season. A summer baby is most likely going to need warmer infant clothing around six months of age during the winter months, so keeping the weather in mind when buying larger sizes is a must. Likewise, a summer baby may be able to fit into 9-month to 12-month size infant clothing come spring time. Again, it all depends on the growth pattern of your baby and the speed of his development.
Infant Clothing – Night and Day
When dressing your baby, you always want to make sure that he is comfortable and that his clothing is appropriate for the weather. Infant clothing is going to be a little different during the day than it is at night. Layered clothing is beneficial when you're out and about with your baby. Because he is unable to regulate his body temperature, it is a good idea to dress your baby in layers and always have an extra blanket or sweater on hand. During cooler months, a onesie with pants and a sweater or light jacket is a good idea. You want to avoid your baby overheating without the option to remove a piece of clothing.
Temperatures usually drop at night and our bodies are less active. Babies also lose heat more rapidly than adults, almost four times as fast. When dressing your baby for nighttime, take heed of the weather first and foremost. Hot, humid summer months make blanket sleepers unnecessary so be mindful of your environment.
Two things to take into consideration when dressing your baby for nighttime:
Babies tend to move around a lot during the night. A one-piece outfit works the best. Whether it's a short sleeve onesie with bare legs or long-sleeve footsy pajamas, one piece is ideal to ensure no bunching of clothes around your baby, waking him without cause.
A blanket rarely stays on your baby during the night. If you are depending on a blanket to keep your baby warm throughout the night, you might want to reconsider. Dress your baby as if there were no blankets to keep him warm. Not only is this better for baby, but it will ease your mind when you wake up in the middle of the night wondering if he's warm enough. Not to mention that blankets are considered a hazard in the crib for newborns.
Don't Forget the Basics: Types of Baby Clothes
Your baby's wardrobe will consist of a few basic essentials that you will need to keep on hand at all times.
The Onesie (and many of them): This is a tight-fitting cotton t-shirt that snaps under the diaper. They come in short and long sleeve and the options are virtually endless. You can find an onesie in any color, with any pattern, ranging from sports teams, to rock bands, to cartoon characters and more. They go with jeans, leggings, sweats, baby dresses, costumes, etc. They are the staple in every baby's wardrobe, especially when buying newborn clothes.
Socks: Because your baby's feet are usually always cold, socks are a must. Basic and plain to flashy and frilly, socks will be worn regardless of the climate. Socks are especially important at night when your baby's feet are more likely to get cold regardless of the temperature.
Hats: Keeping your baby's head covered during certain times of the year is crucial to his health. Your baby is unable to regulate his body temperature like an adult; therefore, losing body heat happens more quickly with babies. Even though head heat loss is only about 20-30% of our bodies total heat loss, wearing a hat significantly decreases this percentage. Hats that cover the ears are even better for the colder months, especially if wind is involved. A baseball hat might be better in the summer months. Most likely, though, any hat will need a chin strap to keep your baby from ripping it off within the first 30 seconds.
Nightgowns, Pajamas, or Blanket Sleepers: Decide what sleep attire your baby prefers and then have a few of them clean and handy. Make sure these clothes are comfortable and easy to put on and take off since you may have to do a middle of the night changing without waking baby up.
Sweater or Jacket: Have a sweater or jacket that your baby likes and you can grab and go. It's nice to always have one available to you in case of a change in the weather while you're away from home.
Bibs: Having plenty of bibs means less laundry and less mess on your baby clothes. Many babies spit up, and not just at meal time, so having more bibs available to you is always the better option.
Happy shopping!
Clothing Your Baby | Newborn Clothes – Size and Season | Infant Clothing – Night and Day | Don't Forget the Basics: Types of Baby Clothes
You may also be interested in these websites concerning clothes and shoes: origins and history, types of shoes, how to wear;  skinny fit jeans, jeans bootcut, summer sun dresses for summer time and the beach, women's maxi dresses and maxi style in the apparel, evening dresses and evening gowns, pashmina shawls.

One Response to Baby Clothes. Newborn and Infant Clothing.